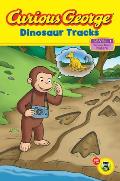 Tibbott, Julie. Curious George: Dinosaur Tracks
.
Houghton Mifflin Harcourt, 2011. $3.99. EARLY READER.
Curious George was curious about animal tracks. His friend Bill notices that he's missing a picture of a fawn. He takes George to the place where he last saw it, then goes fishing. George has a great time taking pictures of animals and their tracks. Then he sees an odd track, he thinks it's a dinosaur. He leaves some carrots for it, but then realizes that some dinosaurs eat meat! He runs to save Bill and discovers who made the tracks and gets a perfect picture.
Fans of PBS Kids "Curious George" television series will recognize and revel in a new adventure with George. A few simple "track" activities are included at the end.
EL (K-3) – ESSENTIAL. Samantha, Public Librarian.