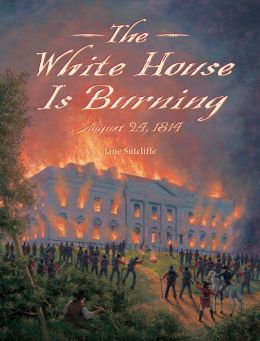 Sutcliffe, Jane The White House is Burning: August 24, 1814
, 120 pgs. Non-Fiction Charlesbridge. 2014. $19.95. Language: G; Violence: PG (Battle scenes, not disturbing but descriptive) Mature Content: G.
200 years ago, our capital, Washington D.C. was under attack by the British during the War of 1812. This is the account of the events leading up to the burning of the city, the battle and a bit of the aftermath. The British were in and out in one fatal day, but managed to destroy some of our young country's treasures and architecture, including the Capitol and the White House.
Sutcliffe gives us several different viewpoints, including Presidentress Dolly Madison (from a letter to her sister), British and American soldiers, towns-people, a tourist and even a slave's account of that terrible day. Enough illustrations to provide context to upper elementary students, this short history is accessible on all school library levels.
EL MS - - ESSENTIAL, HS - - ADVISABLE Lisa Librarian