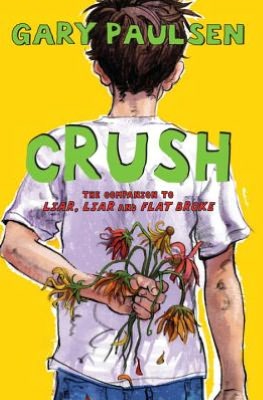 Paulsen, Gary.

Crush,
136 pgs. Wendy Lamb Books (Random House), 2012.

$12.99.

Sexual Content: G; Language: G; Violence: G.

Crush is a companion book to Liar, Liar and Flat Broke; however, you do not need to have read those titles to thoroughly enjoy this laugh-out-loud read.

Kevin Spencer has a serious crush on Tina Zabinski, instead of just asking her out, he decides to take the scientific approach to love.

His scientific test subjects are his unwitting family members and friends.

He tries to create a romantic dinner for his parents and ends up starting a fire in the kitchen.

His scientific conclusion: "there is no romance in this house."

Kevin's next step is to set people up and observe the chemical reaction.

One of his test subjects is named Goober, need I say more?

Kevin also manages to send mixed-messages to his almost friend Katie and she thinks they are on a date.

In a charming and satisfying conclusion Kevin's love life comes untangled.

This is a great read for boys and reluctant readers.

Paulsen's first person narrative is humorous, quickly paced, and not at all mushy.

EL, MS – ESSENTIAL.

Samantha, Public Librarian.