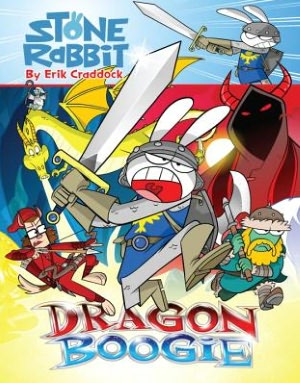 Craddock, Erik.
Stone Rabbit: Dragon Boogie,
96 pgs.
Random House Books for Young Readers, 2012.
$6.99.
Language- G, Mature Content- G, Violence- G.
This book is about three friends who are hanging out at one of their homes.
The power goes out.
The only game they can play is a board game called "Dragons and Stuff".
They start to play the game but the dice are missing.
One of the friends pulls out some dice that he took after they fell out of someone else's pocket.
The dice are red and have and have bulls painted on them.
The dice are magic and take the friends to another universe.
They need to fight some mystical creatures in order to get back home.
Will they ever get home?
I liked this book because it was a comic book and it was very funny!
The illustrations are really good and colorful.
I really like all of the Stone Rabbit series.
ESSENTIAL.
EL (K-3).
Student Reviewed: JL- age 9.